The stepper DaVinci is a small machine driven by stepper motors.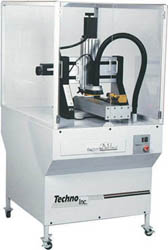 Operation
Stepper DaVinci g-code interface - This document covers the software interface for controlling your router.
Educational DaVinci Setup - good for Education, but also everyone else.
Troubleshooting
For troubleshooting help with the Stepper DaVinci, download the Stepper DaVinci troubleshooting guide.
If you suspect misalignment, consult the Alignment Procedure document.
Spare Part Catalog
Download the Spare Parts List for details.